Sleeping outside is dangerous. Even on a mild winter night you can freeze.
Throughout this winter season, we have seen an increase in guests arriving at our shelters to escape from the cold. When all of our beds are full, we put out sleeping mats on the floor to make room for our extra guests.
We do all we can to make sure no one is homeless and unprotected from the colder temperatures of winter. Each guest receives a warm meal, a winter coat, hats/gloves (when needed), and the relief of having a safe place to spend the night. Your support makes it possible to offer life-saving services during these winter months.
Our residents appreciate your kindness. Ricky is a resident who is staying with us this winter. He says, "I'm grateful for being warm. You helped me when I was cold and struggling … You saved my life. Thank you for caring for me."
It costs $13.90 for a bed and a meal to keep someone safe on a cold night. While here, they have the opportunity to learn new skills and begin with a fresh start.
During these cold winter months, please consider a gift to help our neighbors in need. We are grateful for caring friends like you.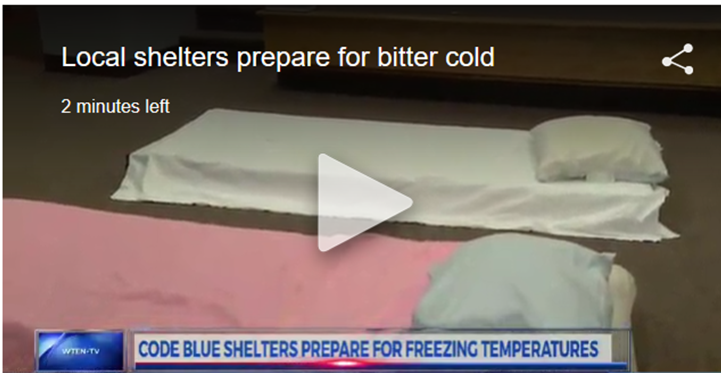 Other news links about how you're making a difference this winter:

Channel 10:  Local shelters prepare for extended cold weather
Channel 6:  Capital Region Homeless Shelters in need of supplies for bitter cold ahead
Thank you for making a difference in our community this winter season… and throughout the year!