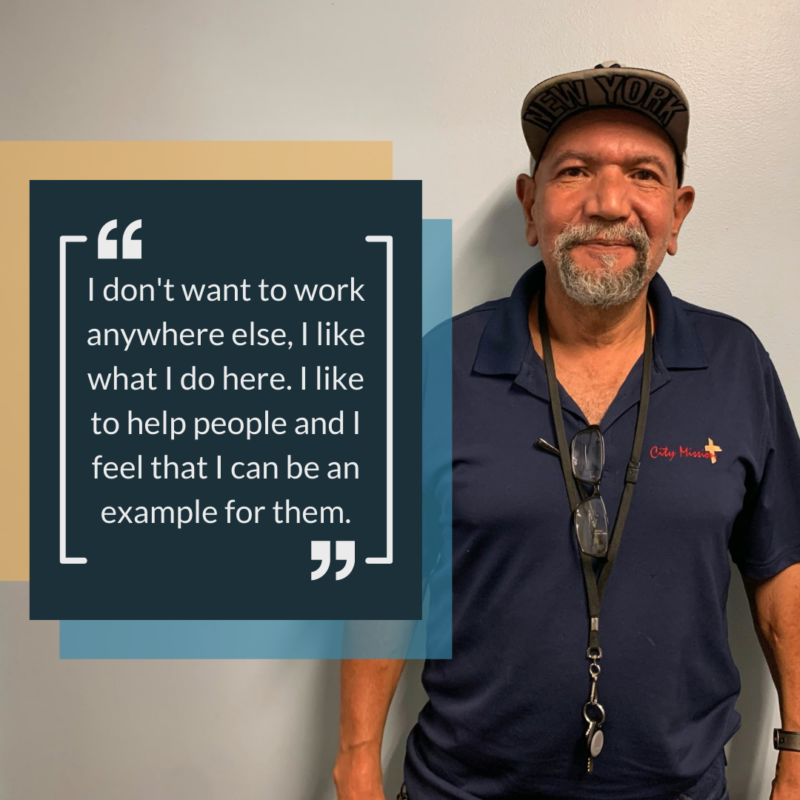 Your kindness and compassion allow people to envision a brighter future for themselves. When Ramone first arrived at City Mission, he had no intention of staying. Coming to City Mission was difficult for him. It was right before the holiday season, he had fallen out of contact with his family, and he struggled to trust those around him.
"The first night I stayed here, I didn't sleep at all. I didn't trust anybody around me. That was what I was used to. I thought it was what I was supposed to do."
Ramone was caught in a cycle of bad decision-making for most of his life and saw no other path for himself. It wasn't until a fellow resident urged him to give City Mission a chance that he started to have hope that the cycle could be broken.
"The resident told me that if I stayed here for just two weeks, I would start to see a change. So, I stayed and started the Bridges to Freedom program—and to tell you the truth, if I had to do all of the program again, I would because it helped me."
After years of being out of touch, he was able to reconnect with his family and rebuild relationships with his children. Now speaking to them every week, he is able to once again look forward to the holidays.
"Before, I didn't believe in holidays—there was no Christmas for me. But now I have my family and I have somewhere to go. I also have my big family here at City Mission. I care about these people, and that is something I never did before."  
Ramone is grateful for caring people like you for allowing great change to take place within him. Not only was he able to reconnect with his family, but he has gained a new one. He learned how to trust again, and most of all, has gained a great sense of responsibility. Now a staff member at City Mission working in our Men's Shelter, Ramone is able to give back by helping others.  
City Mission gave me everything. That is why I just want to give back to the community now. I don't want to work anywhere else, I like what I do here. I like to help people and I feel that I can be an example for them.


RAMONE, FORMER CITY MISSION RESIDENT
Working full-time and having his own apartment, Ramone now has hope for his future. He dreams of buying his own house and continuing to make an impact on others at City Mission. Ramone was able to break free from a cycle of hardship with the help of friends like you.
Thank you for helping to build a brighter future for Ramone and so many others!
*Names and photos are occasionally changed to protect the privacy of our residents, but this a real story of someone you have helped.*